Description
Panopto is MIT's lecture capture tool and video hosting platform that allows you to record, host, share, and search videos. This tool is available in all Sloan courses in Canvas to help you build a more cohesive course experience.
Who Can Use It
Faculty, staff, and students.
Canvas Integration
Yes.
How to Get Access
In your Canvas course, click on the Videos link in the Course Navigation Menu. Note: If "Videos" isn't listed, you can easily enable it under Settings.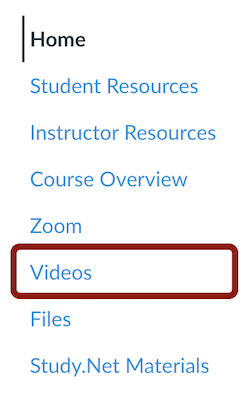 How to Get Support
Panopto
Panopto provides 24/7 end-user support as part of MIT's Enterprise license. You can contact them directly by:
MIT Sloan Teaching & Learning Technologies
Submit a support request for any questions related to:
Related Resources