Description
Piazza is MIT's platform for instructors to efficiently manage class Q&A. It's designed to simulate real class discussion.
Who Can Use It
Faculty, staff, and students.
Canvas Integration
Yes.
How to Get Access
In your Canvas course, click on Piazza in the Course Navigation Menu. Note: If "Piazza" isn't listed, you can easily enable it under Settings.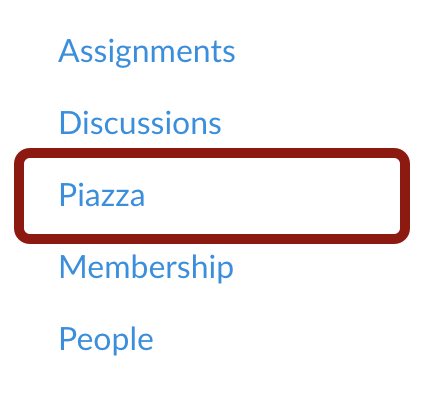 How to Get Support
Piazza
Piazza provides end-user support as part of MIT's Enterprise license. You can contact them directly by:
Email: team@piazza.com
Virtual Sessions: Sign up for a virtual session with the Piazza team.

Live Piazza Demo: 12:00PM and 3:00PM ET
Office Hours with the Piazza team: 1:00PM and 4:00PM ET
Information Systems and Technology (IS&T)
Submit a support request for any questions related to Piazza.
Related Resources