Description
Course Overview is MIT Sloan's custom Canvas integration that displays the course's directory information (e.g. course description, meet times, etc.) within the Canvas course.
Who Can Use It
Faculty, staff, and students.
Canvas Integration
Yes.
How to Get Access
In your Canvas course, click on Course Overview on the Course Navigation Menu. Note: The Course Overview tool is available in all MIT Sloan courses in Canvas.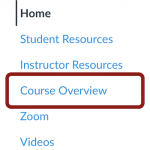 How to Get Support
MIT Sloan Teaching & Learning Technologies
Submit a support request for any questions related to the Course Overview tool.
Related Resources